GBBF at Your Local 2021
Sunday 4 July 2021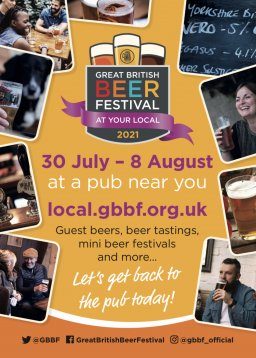 Let's get back to the pub in with the Great British Beer Festival at Your Local this summer!
East and Mid Surrey CAMRA is urging people to visit pubs this summer under the banner of the Great British Beer Festival, supporting them after a year of restrictions.
In the absence of a single Great British Beer Festival (GBBF) event this year due to COVID-19, the campaigning organisation is encouraging licensees to hold events and activities celebrating live beer and real cider as part of a Great British Beer Festival at Your Local event, taking place from 30 July – 8 August, just a week after the proposed date that restrictions are set to end. GBBF at Your Local hopes to present the very best that the nation's pubs, clubs, breweries and cider producers have to offer.
This campaign hits right at the heart of CAMRA and hopes to help encourage footfall to pubs and clubs and increase demand for brewers and cider-makers. In previous years, GBBF has attracted over 38,000 attendees, and CAMRA are hoping that in the year that the industry needs it most, those beer and cider lovers will come out to support independent and local businesses.