October is Cider Month
Thursday 1 October 2020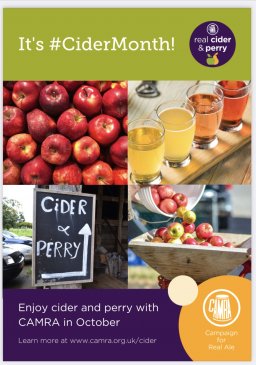 October is CAMRA's Cider Month. This year's event will obviously be different to previous years, However, there's still plenty you can do. If you want to learn more about cider and perry, there are tutorials on CAMRA's online learning platform, 'Learn & Discover'.
CAMRA are also be teaming up with a new campaign called 'Discover Cider' to share and promote cider and perry. Discover Cider is a new initiative launched by Gabe Cook, who is a cider expert and author of CAMRA Book 'Modern British Cider' which is due for release in 2021.
The Discover Cider website at https://www.discovercider.com.
If you're willing and able to get to the pub to try a pint of real cider or perry, please see below for a list of branch pubs that serve it :-